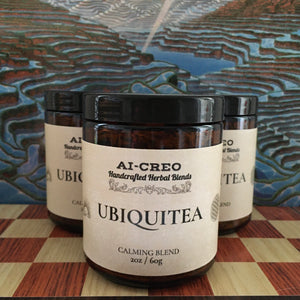 UBIQUITEA
Sale price Price $22.00 Regular price Unit price / per
Ubiquity (noun): present in all places at all times

This signature blend, made in collaboration with AI-CREO Handcrafted Herbal Blends and Samba's Café, derives its name from the 1970s jazz-funk band, Roy Ayers Ubiquity.
Each ingredient has been carefully selected to create a calming yet invigorating herbal tea blend that provides nourishment + support to the nervous and digestive systems.
Ingredients: Rosemary, Mullein, Lavender, Rose Petals, Oatstraw, Chamomile, Calendula, Lemon Balm, Dandelion, Passionflow.
Ubiquitea is also available for purchase at Samba's Café, Brooklyn.